According to legend, Tin Hau was born in the latter years of the 10th century. During her lifetime, she saved hundreds of sailors from a watery grave, thanks to her power to predict the weather and an exceptional swimming ability.
She was so revered that after her death, she became the patron saint of seafarers; the Goddess of the Sea.
Even to this day, she is worshipped across Southeast Asia. In Hong Kong, an annual celebration of her birthday is held on the 23rd day of the 3rd month of the lunar calendar. Colourful Fa Paus ("floats") and dragon dancers parade through the city's streets, coming to a halt outside the many temples dedicated to the ocean deity.
It's in the shadow of one such temple, that I met another woman who has tamed the waves.
Like Tin Hau, Lee Lai-Shan has become part of local folklore. In 1996, a 25-year-old San San (as she is affectionately known to the public) won the women's windsurfing event at the Atlanta Olympics. In doing so, she became the city's first (and so far only) Olympic gold medallist.
"Once I landed back on the pontoon, I felt like my mission had been achieved," she recalls of that hot summer's day in Savannah, Georgia.
It was a mission which had begun four years earlier with a special invite to the 1992 European Championships. The International Sailing Federation (ISAF), in an attempt to boost the sport's worldwide appeal, had presented her with a berth in the tournament.
This was, however, a very different San San to the one who would stand atop the Olympic podium, four years later.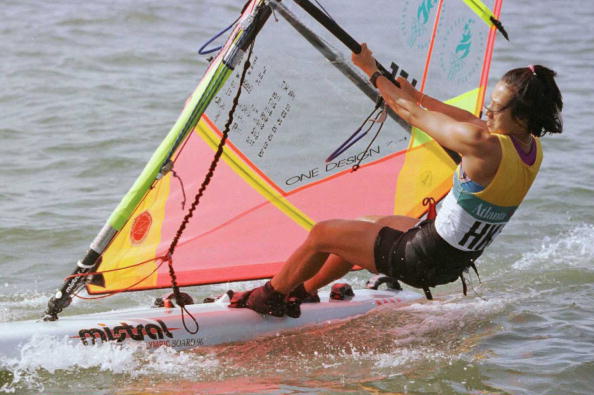 Racing to gold in Atlanta
Languishing towards the bottom of the international rankings, a spot in the championships was a much-needed reprieve. A strong showing in Europe would guarantee vital funding from the Hong Kong government. Even hotels were a thing of fancy; "One day, to save money, we slept on the beach next to where we were going to compete the following day."
Further impinging on San San's preparations, tensions started forming when some of the European coaches, wanting more of their representatives on the start line, began arguing with race officials over the number of qualification spots available. San San remembers one meeting where a coach declared that "rubbish nations, like Hong Kong, shouldn't even join the event." "I understood they wanted to put more of their athletes out there, but I still found this very hurtful," she says.
Though many would have called it a day there and then, San San soldiered on. Using this ridicule as motivation, she sailed up the rankings over the following years before her crowning glory in the Deep South.
Coming ashore in Atlanta, she met the media frenzy with a reporter's dream sound bite; "Hong Kong athletes are not rubbish!" "I always kept that sentence in my mind," she says. "That's why I tried my hardest in every event and every training session. I had to prove them wrong."
San San's historic medal came against a backdrop of social and political upheaval in her homeland. Fast approaching was 1997 and with it Hong Kong's return to China. "The atmosphere was down. People were worried," recalls San San.
It's testament to the power of sport how such depressed national sentiments can be swung in an instant. When West Germany lifted the 1954 World Cup, the country picked itself up from the post-war rubble and became the sporting and economic powerhouse it remains till this day. South Africa's 1995 Rugby World Cup victory began the healing process of a nation divided by apartheid. Four years ago, austerity woes were put to one side for 17 magical days in London.
San San's golden moment was this very "wake-up call" for the small South-east Asian territory. "It gave everyone hope," San San believes. "So many people were so happy. It showed that we could do it. It showed that this was our spirit."
A microcosm of the city's desire to prosper and succeed with whatever was thrown at them, San San has become a symbol for post-handover Hong Kong. Three golds at the World Championships (1993, 1997, 2001) and a further two Asian Games titles (1998, 2002) underline the drive of this galvanising character.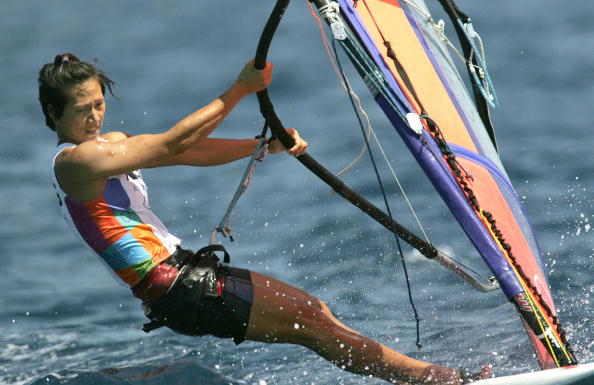 During her career, dogged determination rather than technique proved a headache to coaches. Going into the 2002 Asian Games in Busan, San San was struck down with a stomach bug. Having been unable to diagnose the problem, every team doctor recommended she pull out of the competition.
Due to racing regulations, coaching staff, including team doctors, must stay on the marina, so as not to infringe on the competition. Were she to collapse into the water, no one would have been there to save her. She could easily have drowned. "I didn't care about that," San San says with almost cavalier disregard. "I'm a sort of person that if I can't achieve something, I will not stop. I want to push myself to the limit."
It wasn't until the penultimate race that she had to retire and fly back to Hong Kong, where she was rushed straight to hospital.
Despite her brush with death, she still came away with the gold…
It is this mental rather than physical toughness which lay at the centre of her success, a trait instilled in her from birth. Born one of 10 children on the remote island of Cheung Chau, her resilience was a necessity. "When I was eight, my father passed away. My mum had to take care of 10 of us. I learnt if I wanted to survive, I had to work hard. You have to fight for something if you really want it."
To help her mother out, San San's uncle, Lai Kan, offered to take his niece under his wing when she turned 10. Lai ran the island's Windsurfing Centre, and so began San San's love affair with the sea.
Despite her passion for the sport, Lai didn't let his niece on a board for an entire year. This Mr. Miyagi approach was his niece's training: "He wanted to know that I was serious, so I spent a long time working at the Centre before getting on a board." For the girl who had yet to find her true calling, "Ms 70 per cent", as she was known by her sister Ivy, had to give 100 per cent.
Rene Appel with Olympic legend Ed Moses at an HKSI event
Then, after Lai Kan, came Rene Appel.
Arriving in 1986, the Dutchman joined the Hong Kong Sports Institute (HKSI) and was charged with developing the national team. This was the spark that really ignited San San's career. "What I learnt from Rene was if you're not good at one thing, get someone to help you," she says of her former coach.
"I used to be quiet and wait for a command. When Rene came on board, I knew I had to be more active."
Despite the public calling their partnership "crazy and time-wasting", the now-52-year-old was never in doubt of his athlete's abilities. "There was this Chinese proverb on display in one of the gyms we worked at in the States during the U.S. Nationals (1995) that summed it all up quite nicely," he recalls.
"The person that says 'It is not possible' should not disturb the person doing it."
Not only was getting gold in his job spec, it also became a passion project. With a desire to prove a cynical public wrong, his first feeling when San San crossed the finish line was not one of elation; "Given all the time, effort and difficult environment of '96 (she was badly stung by a jellyfish before the first race), my first feeling was of relief. It took a while to sink in that history had been written."
Only upon their return to Hong Kong, did the enormity of their achievement hit home.
Coming through arrivals at Kai Tak Airport, they were met with a packed terminal. All along the streets outside, cheering and flag-waving fans jostled for a sight of the city's new darling. There wasn't even room to walk upon her Cheung Chau homecoming, a reception worthy of an A-list movie star. For Appel, it is "a memory (he) will cherish forever."
Andy Service (R) and "Fajai" Chan Yuk Wah (L) in Atlanta
Also in Atlanta was Andy Service.
Like Appel, Service had come out to Hong Kong to develop the city's sporting pedigree. Lying just outside the British sailing pecking order, he made the switch to Team HK.
Along with "Fajai" Chan Yuk Wah, Service competed in the 470 class. Despite finishing in the bottom half of the results, the Olympic dream came true: "We were very small, weight and height wise, so to qualify was a major feat in itself. The pressure and intensity was just phenomenal."
He reveals the odds were totally stacked against their "small" outfit: "One of us was English speaking, the other Cantonese. Communication, at times, was quite limited. I'd also partially torn my anterior cruciate ligament just before we went, but I wasn't going to miss that chance of a lifetime."
One of Service's lasting memories of the Games was the immediate reaction to San San's victory: "The team was just buzzing."
"I knew Rene very well and it was a phenomenal success for him as well. At the time, they were the best team in the world. It's no good being the best before or after an Olympic year. They peaked at the right time."
Now a teacher at Sha Tin College, Service is still heavily involved in the city's sailing setup. 20 years on from that summer in Georgia, the sport has become a major success story. "When I first came to Hong Kong, I set up a youth boat called The Optimist," he tells me in the College's Middle School office.
"We had 12 sailors. Now, there are well over 100, with 70-80 national youth sailors!"
There are full-time national coaches, world-class facilities and, most significantly, sailors achieving significant international results. In last year's 29er World Championships, two Hong Kong sailors finished in the top 10.
"In general," says Service, "sport is more accepted these days. When growing up in Hong Kong, the emphasis is placed on doing well academically. I think that sport is starting to be accepted as a way forward for making a living and doing well."
Thanks to San San's medal, the tide has also turned for windsurfing. "It's one of the HKSI elite sports and is getting all the support and funding needed to compete at the highest level," beams Appel.
Last year, after ensuring the sport's popularity, Appel retired. Not a man to put his feet up with other mere landlubbers, he is currently sailing around the world with his wife, Barbara.
He leaves behind an unquestionable legacy of success (so much so, that the coach who called Hong Kong windsurfers "rubbish", has since apologised to Appel in person). "I am also pleased to see that since my departure, the head coach position has been taken up by a locally trained coach and successful retired windsurfer."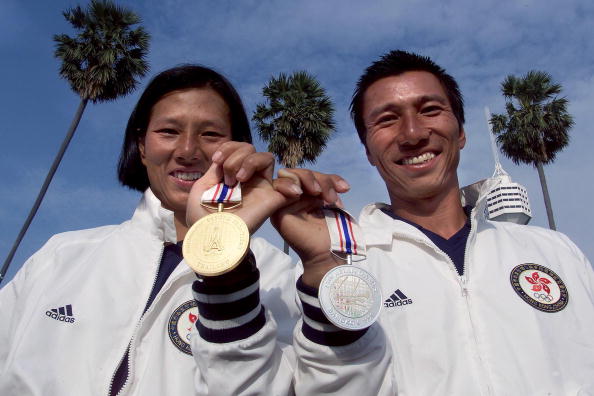 San San with husband Sam Wong
Like her former coach, San San's focus has also shifted. After retiring in 2005, she turned her attention to family life with husband, and another ex-Hong Kong windsurfer, Sam Wong. She now has two daughters, Haylie (11) and Kallie (9). When I ask her if they have caught the windsurfing bug, she laughs: "I won't push them really hard. My little one just started competing in triathlon. Haylie likes reading."
"I just want them to know if they really want something, then they have to try hard and focus.
As the old saying goes, you never stop being a mother. Likewise, San San will never stop being an ambassador for her sport, and more generally, Hong Kong sport as a whole.
On the region's windsurfing representatives, she believes that while medals may be beyond them in Rio, "getting this exposure will be a valuable experience."
On Team HK, it will be a matter of not getting punch drunk on the Olympic experience. "We have genuine medal hopes," affirms San San. "It's just a matter of performing, as normal, on the biggest stage of all."
With Team HK sending a delegation which includes a reigning bronze medallist (cyclist Lee Wai Sze) and a world number 14 (table tennis's Tang Peng), the city's athletes are most certainly not rubbish.
Cameron Tucker