The highly anticipated fight between bantamweight champion Cody Garbrandt and former teammate T.J. Dillashaw has been cancelled for the upcoming UFC 213 card in Las Vegas.
Unfortunately, Garbrandt suffered a back injury several weeks ago and despite the UFC's best attempts to get him ready for the July 8 card, there was just no way he would have been able to recover in time.
Garbrandt even flew to Germany last week to receive treatment on his back in hopes that he'd be able bounce back in time, but sadly he was forced to pull out of the fight with Dillashaw.
On Tuesday, the UFC announced that an interim middleweight title fight between Yoel Romero and Robert Whittaker would now co-headline the July 8 card with the women's bantamweight title fight between Amanda Nunes and Valentina Shevchenko set as the main event.
There's no word on how long Garbrandt will be sidelined but it's expected that he'll be out of action for several weeks as he waits for his back to recover from the treatments he received.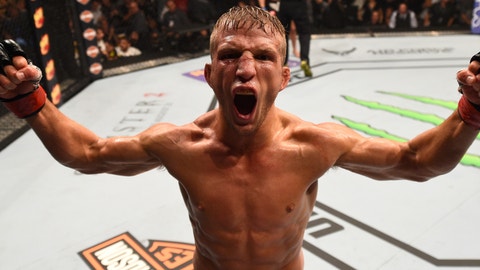 As for Dillashaw, the former bantamweight champion has been pushing for the chance to drop down to 125-pounds for a shot at flyweight champion Demetrious Johnson.
According to UFC president Dana White via ESPN, the promotion is currently working on plans to grant Dillashaw his wish to face Johnson in a title fight at 125 pounds in August.
While no official announcement has been made, sources have told FOX Sports that UFC 215 in August will likely take place in Seattle, which is Johnson's hometown. It's also a special fight for Johnson as he looks to defend his flyweight title for the 11th consecutive time, which would break the all time UFC record.
If the fight with Dillashaw is made official, Johnson will certainly have his hands full if he wants to enter the history books as the UFC champion with the most title defences.